Ok so its not really that new,hubby recently bought for me 2weeks ago n i wear them everyday to work since then! They're actually a very late bday present from hubby( im just too picky). Been searching highs n lows for the perfect pair n there they were,sitting elegantly on the rack in a store in OU..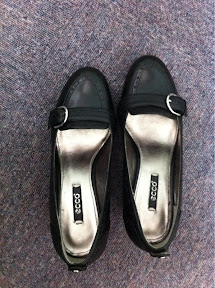 My new heels! Bought them in an Ecco store.they r unbelievably comfy. Better than carlo rino leather (nice design but hurt teribly! Have to wear skin socks everytime i wear them), clarks that i got as my hantaran kahwin..
The heels r sinfully high,but deliciously comfy! Finally,the answer to my perfect heels for work!(except that if they are in brown color n gold buckle would b more lovely).. Plus,i got them at 40% discount!!!
- Posted using BlogPress from my iPhone